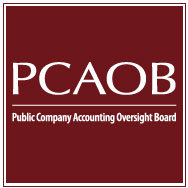 We learned of this proposal today and we thought our readers would be interested. This change would have an inpact on the financial reporting requirements for all public companies.
Washington, DC, Dec. 4, 2013
The Public Company Accounting Oversight Board today reproposed for public comment amendments to PCAOB auditing standards that would provide greater transparency into audits of public companies, brokers, and dealers about the engagement partner and certain other participants in the audit.
"Identifying the engagement partner and providing additional information about the other participants in the audit will increase the usefulness of the auditor's report for investors when making their investment decisions, as well as when voting on the ratification of a company's choice of accounting firm as its auditor," said James R. Doty, PCAOB Chairman.
The reproposed amendments would require disclosure in the auditor's report of:
the name of the engagement partner who led the audit for the most recent period, and

the names, locations, and extent of participation (as a percentage of the total audit hours) of other public accounting firms that took part in the audit, and the locations and extent of participation of other persons (whether an individual or a company) not employed by the auditor who performed procedures on the audit.
"Knowing the name of the engagement partner on an audit, and the various other firms that participate in a global audit may help the investing public identify and judge quality, leading to better auditing," Chairman Doty said.
Generally, audits today only disclose the name of the firm that issued the auditor's report and as such, information about the other firms and persons that participated in the audit is unknown to investors and other users of the auditor's report.
In many audit engagements, especially audits of companies with multiple locations and international operations, the primary audit firm may perform only a portion of the audit. The remainder of the work may be performed by other affiliated accounting firms, non-affiliated accounting firms, or other persons not employed by the auditor, such as consulting firms and individual accountants.
"Over time, investors will benefit from knowing the identity of the engagement partner and being able to obtain an understanding of an engagement partner's history when evaluating the audit," said Martin F. Baumann, PCAOB Chief Auditor and Director of Professional Standards.
"Further, it will be very useful for investors to know what other firms participated in an audit and the extent of their participation, as different firms participating in the audit may have very different inspection results or may be located in a jurisdiction where the PCAOB is prevented from performing inspections," Baumann said.
Other than the disclosure obligations, the reproposed amendments would not change the performance obligations of the auditor in conducting the audit.
Comments on the reproposed amendments are due by February 3, 2014.
See the full report via this link: PCAOB.org