Contact Us
Internal Control Simplified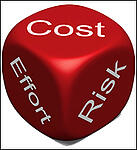 Vibato offers a multitude of products to assist with internal control implementations, internal control and procedural remediation efforts, control refinement and reduction efforts, segregation of duties analyses, financial risk assessment procedures, SSAE 16 (SAS 70) review templates and analysis procedures, HIPAA implementations, PCI implementations and a variety of other solutions to help improve your internal procedures.
Vibato provides internal control solutions to help public, private, and nonprofit organizations improve their financial risk management and compliance efforts. Vibato is focused on delivering immediate results and accelerated ROI. We achieve this with a unique approach that leverages standardization,best-practices, integration, and scalability.
Vibato delivers one-on-one consulting expertise and industry-leading tools to assist our clients with achieving sound internal control procedures including goals such as:
Sarbanes-Oxley Act of 2002, Section 404 compliance

SAS 104-115 compliance for audits of private companies

Mergers & acquisitions due diligence

Process reengineering and control optimization

Reverse merger and process integration work
The 5-Step Vibato Difference
Vibato delivers immediate results and accelerated ROI through the differentiating features of our approach:
1. Our Philosophy
We believe that there are some business practices that can be leveraged from company-to-company; otherwise, a CPA license would be useless and we'd all have to get unique accounting degrees based on how Company X performs accounts payables procedures or how Company Y manages their fixed assets. Based on this philosophy, we also believe that expensive consulting time should be spent adding value and determining what is unique about your organization rather than asking questions about procedures that we already know such as, "Mary, how do you fill out a check?" or our favorite "Frank, what is a journal entry?" We've done this work all over the world and we can assure you, checks are filled out nearly the same way in every country and if any accounting consultant doesn't know what a journal entry is, they should be shown the door.
2. Our Solution
Instead of wasting time and money writing down the basics, we have spent the last 15 years creating a solution that has documented all of the 'basic' items all companies deal with and we have put this solution into an Excel-based methodical, software solution that is cost effective and efficient.
We have not only pre-drafted the 'basics' but we've also spent years refining the language to ensure you start off with the best practice way of performing each control. Our fixed priced approach comes with the consulting expertise to ensure your understand and success. We interview your team, show them the pre-drafted language, discuss why the control should be considered and how your procedures can be improved to meet best practices (if that is your company's goal), and then we complete the initial documentation effort to ensure you are left with a complete package that is ready to be used and presented to your external auditors.
The results of a standard implementation include the completed Vibato software environment showing all of your controls and how they meet your company objectives and mitigate risks, audit test plans for each control, pre-drafted supporting policies and procedures that will help your team execute each control, and the original best practice control language to give your company something to strive to or benchmark your procedures against.
3. Integration
We've learned the hard way that people don't necessarily like SOX. Imagine that! What this also means is that it is extremely difficult to get these same people to learn a unique software solution for something they don't enjoy. What we deliver is a comprehensive and integrated Excel-based, Visual Basic, software package that acts like software (requires activation, dynamic interfaces, etc.), but that cannot be blamed for a loss of productivity due to a lack of software understanding. If you know how to use Excel, then you know how to use our solution. This means that you won't need to purchase expensive add-on tools or custom software products. You will spend less time implementing & maintaining your internal controls. Translation: cost-savings and timesaving's.
Vibato = Visual

Ba

sic

To

ols
4. Scalability

The modular approach of the Vibato Internal Control Suite allows clients to select only the controls or processes they need. That minimizes cost and complexity. By purchasing only what is needed, clients can scale the cost as they grow.
5. Your Results
The Vibato solution has been proven worldwide to increase internal efficiency by creating greater bandwidth for your existing team through the standardization and streamlining of procedures while addressing the Sarbanes-Oxley, SAS 104-115, AS8-AS15, COSO 1992, and COSO 2013 compliance requirements all while meeting the needs of external auditors.
Our clients measure progress in days to identify areas of financial risk, identify control requirements, gaps, and opportunities. This same effort will typically take months to design and implement using the traditional time & materials approach.
This optimized approach has consistently led to clean audit opinions at a significantly reduced cost and effort on the part of both clients and their internal & external audit teams.