COSO Overview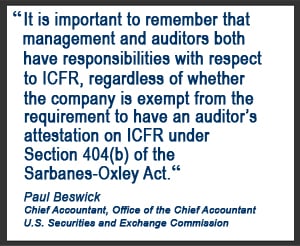 COSO is the most widely used internal control framework available. COSO is referenced in most public companies 10-K's under their internal controls section,
"Management's assessment of internal control over financial reporting was conducted using the criteria in Internal Control—Integrated Framework issued by the Committee of Sponsoring Organizations of the Treadway Commission, or COSO."
COSO is dedicated to guiding executive management and governance entities toward the establishment of more effective, efficient, and ethical business operations on a global basis. It sponsors and disseminates frameworks and guidance based on in-depth research, analysis, and best practices as detailed from the COSO website.
Comprising the professional associations listed below, the Committee of Sponsoring Organizations (COSO) is a voluntary private-sector organization.
Learn more about COSO and its integrated framework for internal controls from the COSO website here.
COSO 1992 Guidance has been used since the passage of the Sarbanes-Oxley Act of 2002. As of 12/15/2014, the new "COSO 2013 Guidance" will replace the 1992 version.

Learn more about Vibato's COSO 2013 here.